Ah, the Bathroom! We spend a good amount of time there.
How nice to start the day in ... a place that is energizing yet calming...
Although I'd be the doors-closed type, this is my Number One favorite ever since I love greenery and views in bathrooms:
Rubber duckies do it for many, but I just like blue and yellow!
This piece of luxury below would be Very good.
Wait, I might be too shy in front of that gigantic mirror....
via
This one, below, would be very happy -- in a Justin Bieber song kind of way.
"You Smile, I Smile", I'm ok with it~!
via
The blue and the green, the mirror, the layout, all the windows,
the tub and shower...I'd add a few plants and love it.
via
Found this little gem (next two photos) at Home Bunch; rustic, elegant, and such beautiful use of space (I'd be adding greenery, of course):
a closeup shows that there is PLENTY of room for some plants:
Greenery, and an overall wonderful earthy, grounded design:
I'd opt for curtains to protect passersby from shock....but WHAT a great, happy view!
A bit out of my price range...

greenery?
via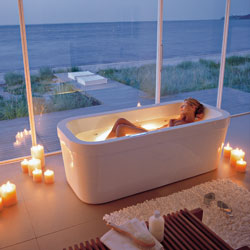 I bet that even the ugliest of bathrooms becomes wonderful with lots of wonderful candles!
~and greenery~
Rub a Dub Dub!
~vbk~