These benches are all wonderfully pleasing to look at, add character to the space, and they are useful.
'Nuff said.
Time to Look!
cutie:
And what long wall wouldn't be thrilled to have one?
Have a great, nifty, wonderful weekend!
~Valerie
P.S.
> A delightful Park Bench article from the UK's Independent: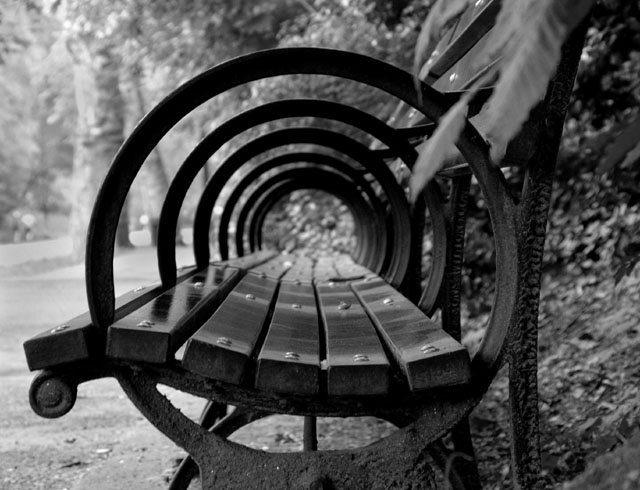 7am. A couple sit down on the bench, soon they are almost lying on it, engrossed, entwined with each other.
It is an assignation but it is not a secret, for we can see them but this is a magical bench, once on it, it is your own world.
At noon another couple. Purposefully he takes off his jacket, his tie, his cuff links, he rolls up his sleeves. She sits down and sorts out a carrier bag, producing polystyrene cups. He unwraps greaseproof paper and takes a bite out a sandwich. He is hungry, he takes a bite out of her. They kiss. They eat. They kiss. It is unwise to interrupt. They are oblivious to trippers going by, blinkered in each others mouths. They hold on to each other. Reluctantly they leave the bench, the park, to return to reality.
Just after 9am: Bill Penney arrives, he is between shifts. He takes out a sandwich and a can of lager. 'I come here most mornings, I suppose I'm a country type, my father was a farmer.'
He has been in London for 35 years, working in the building trade, painting and decorating, he's done the Bank of England and The Dorchester. Now he's a security guard. 'There's too much traffic, this is a breathing space I s'pose.' He lights a cigarette and watches ducks. He gets out a pair of glasses and reads his bus pass.
At 12.50pm Mr Tomlin and his wife ease themselves on to the bench. 'We're waiting for a shady seat, it's too hot here for us,' says Mrs Tomlin.
They have come on the No 11 bus from Bethnal Green. 'We visit all the parks in London, Regent's, Tower, Finsbury Circus, we go just for the day, otherwise you get housebound. We live in a top-floor flat, here you can take in the scenery,' says Mr Tomlin. 'I think it's romantic.' They wander off towards the bandstand and eventually back home to watch Wimbledon.
An escaper stops, sits down, he seems worn out, he puts his head in his hands. He sighs. 'I enjoy the peace although I suppose that's a contradiction,' he says gesturing towards the tourists. 'This is a break in the day and the bench is focal point for finding peace, it's a chance to see the wildlife.' He has walked from Berkeley Square, across Green Park. 'This bench is a window on the world, it's a powerful interlude.' He works in property in the West End. 'I'm not under any pressure to get back, I keep my own time.'
Mid-afternoon and two civil servants from Whitehall sit down together. 'We've been in our offices all day, it's pleasant coming here,' they say. 'When we go out, we talk about all kinds of madness,' says Ricky Estwick. 'When I'm on my own, I weigh anchor, I suppose I dream, I've won several world cups on this bench, cross court passes, the Pullitzer prize. . .' 'And the Nobel,' adds his friend. They watch the swans, they are momentarily joined by an elderly couple. Big Ben sounds, they return to work.
At 10.45 a woman in a white dress sits down. She is wearing earrings the size of gob stoppers and lipstick the shade of pink bubblegum.
'I want 5 minutes peace, I want to be alone, I'm not saying anything,' she says. She searches her handbag, she counts the money in her purse, she searches again. She rolls up her sleeves, she mops her brow.
A group of French students clutching guide books, rucksacks and wearing Walkmans pass by.
1.15: 'I can't make up my mind, should I go to the National Gallery or go see Big Ben?' muses Leilani Peterson, a Canadian, sitting on the bench with three opened maps.
She arrived in England three days ago. 'I've done Oxford, Brighton and I'm going to do Scotland and Wales. I don't need to sit on park benches at home, cos I have a view from my home across the bay. I dream on my couch. I like sitting here and enjoying the landscape. She fold up her maps, she has plumped for Parliament Square.
At 6.15pm Guy Marriage and Meret Gabra stop. They have been feeding the squirrels with monkey nuts. 'I've got some of them semi-trained now,' says Guy. 'I bet you've seen everything today,' he says smiling. 'Last week there were two couples making love over there, still I suppose they must feel relaxed,' says Meret. 'If you live in a shoe box, anywhere in London that's got a green space is good.' Sometimes Meret comes to read. 'I've got a copy of Immortality in my bag, by Milan Kundera. 'I will read it one day.'
At 11.25am two tourists stop and sit for a moment, they are consumed by their map, they argue about which way they should go. The woman lights a cigarette, she looks up and she starts to see, she relaxes, she reaches for her camera and photographs a duck. She is happy now, she doesn't mind where they go. A man walks down the line of park benches handing out leaflets. 'Seven Things You Need, it proclaims, there is a 'contact for Christ on the back, they throw it into the bin.
It's 1.30pm. Two young secretaries take her place.
'We come here when the sun's out, to get away from being cooped up in an office.'
Amanda Young says 'it is total relaxation and we like watching people, we had a complete Mr Bean here the other day, wearing a thick wool suit and trousers up around his ankles.
An inebriated man sways close to the water, he swipes his foot at the pigeons, they scatter. He sits down. He smells. The women go.
It is 7pm. A man ambles along, puts his rucksack down. He takes out tobacco, rolls a cigarette. He has come from Wales where his brother has just become a priest. He is waiting for a coach from Victoria to go back to southern Holland. Frans Van Santvdort is waiting. 'I'm an artist, but I can't make a living. I'm just watching, sitting and watching, thinking about my brother and all that has happened.' The band plays the national anthem, people lever themselves out of deck chairs, drift away. The bench is empty.
~vbk~
1-via 2-via 3-via 4-via 5-via 6-via 7-via 8-via 9-via 10-via 11-via 12-via 13-unknown