Fine dining comes in all shapes, colors, materials, styles, locations, and styles!
Trust me, each image is filled with FINE design ideas
that will make any gathering a FINE event.
The chandeliers , the table, the fireplace...too fine for words!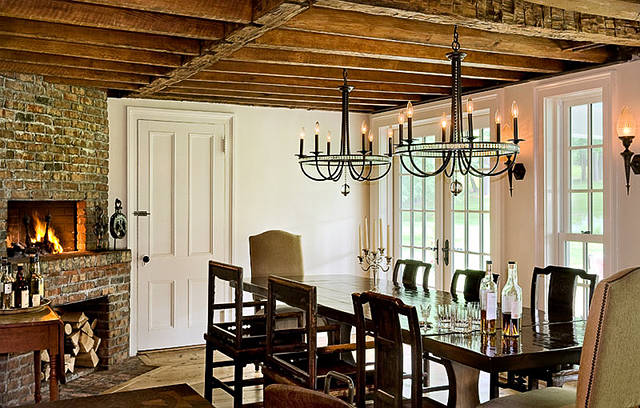 Love the bright, the rustic, the antique, mixed.
And the patent leather on the chairs is practical.
Thoughtful, creative displays makes guests feel special, welcomed, and mighty fine:
Very fine elements; cheerfully, eclectically combined:
Location, location, location, with a glass garage door,
and
combined with a glass
chandelier
.
Simplicity, mixed materials and textures, and a bit of shine:
The pool, the golf course, the sun, the flowers, the drinks...yep, it's Fine.
Once again we have Location,
along with plenty of rustic, romantic charm,
A sense of privacy, with the sun, the water, the plants --
it feels like this spot was arranged for an escape
with a selected, wonderful group of friends.
A pretty table setting always gets the family excited about dinner -- and grateful to you -- even if you still haven't anything in mind except the 12-Minute Special: boiled spaghetti with warmed up (any kind of) sauce. Put out a chunk of fine Parmigiana-Reggiano cheese, chop up a head of Romaine, add some really good salad dressing, and you are done. Make sure the adults have a nice glass of wine. Light the candles, stick the breadsticks into a rustic jar in the middle of the table ...that's FINE dining, folks.
Have a great day!
xo
Valerie
via
via
via
via
via
via
via
via
via
via